Welcome!

Here is where you'll f

ind complete information about Riley St.

James, an established author, writing consultant and ghostwriter.


His literary accomplishments
include published novels as well as non-fiction work and short stories.


Riley is also a public speaker who leads or participates in private or general writing workshops, as well as public library associations and various professional forums that revolve around literary arts.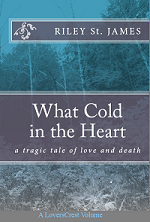 Riley's
latest book











Check out Riley's book 1968 -- Into the Abyss. Viet Nam Tunnel Rat adventures.

Check out our new sister website

www.loverscrest.com